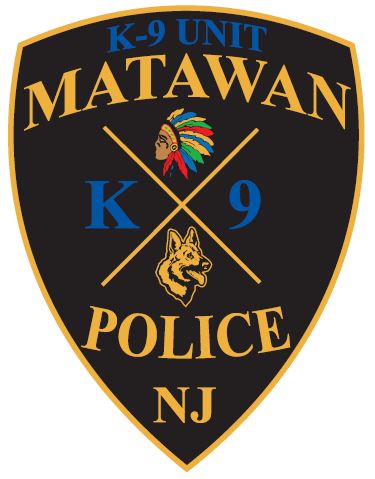 On October 2, 2018, K-9 Blade, a two-year old Belgian Malinois from Holland, was officially introduced and sworn-in as a member of the Matawan Police Department. This officially re-established the Matawan Police Department K-9 Unit, ending a several-year hiatus following the retirement of K-9 Wolf. Ptl. Joseph Mason is the department's K-9 handler.
Mason and Blade graduated from the New Jersey State Police Scent School on June 15, 2018. Mason and K-9 Blade then attended and graduated from the New Jersey State Police K-9 Training & Operations 19th Patrol Class. This was a culmination of 33 weeks of intense training where they were certified in both Narcotics Detection and Patrol Response.
Ptl. Mason and K-9 Blade's narcotics detection certification includes Heroin, Powder Cocaine, Crack Cocaine, Methamphetamine, and Ecstasy. Ptl. Mason and K-9 Blade's patrol response certification include criminal apprehension, tracking of criminals/missing persons, building/article searches, and handler protection.
During the K-9 Unit's first year of service Ptl. Mason and K-9 Blade provided K9 assistance on a total of 79 calls for service to include the following:
Fifty-three (53) narcotics detection calls that resulted in thirty (30) arrests, the seizure of over $6,000 in U.S. Currency and an imitation firearm. Twenty-six (26) patrol response calls that resulted in the safe surrender of nine (9) criminal suspects, four (4) article searches, nine (9) tracks for suspects/missing persons. Two (2) building searches, and two (2) general K9 calls.
Ptl. Mason and K-9 Blade are currently assigned to the Support Services Bureau where Mason serves as a detective tasked with investigating all narcotics related offenses in addition to his other caseload and responsibilities. The K-9 Unit regularly assists members of the Patrol Division and other local, federal and state agencies.
The Matawan Police Department K-9 Unit was started and is totally funded by donations from local citizens, businesses and organizations.
To request a K-9 demonstration, please contact the Support Services Supervisor, Sgt. Jeffrey Bodner or the K-9 Handler, Det. Joe Mason.